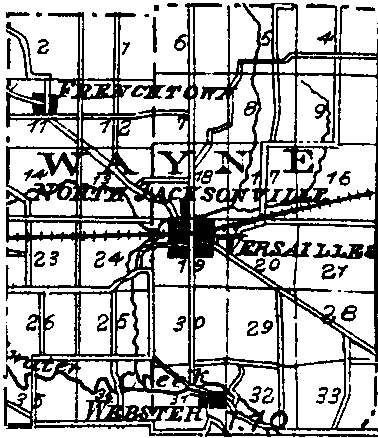 WAYNE TOWNSHIP
Which took its name from "Mad Anthony," was one of the first laid off in the county. It was laid off in July 1817, and contained all of the county north of a line commencing at the northwest corner of Township 12 North, Range 1 East, and running thence east to the northwest corner of Township 9 North, Range 4 East, thence south to the middle of said township, and east to the county line. In 1819 that part of Wayne Township that lay in Township 9 North, Range 4 east, was taken into Adams Township. In 1820 all of Wayne that lay in Range 1 East was attached to Washington Township. In the same year Richland Township was formed, which was taken principally from Wayne, but partly from Greenville and Adams Townships. (See Richland) In 1841, Patterson Township was taken from the north end of Wayne, and contained all of that township that lay in townships 12 and 13, Range 3 East, and 11 and 12, Range 4 East.
David Ward, now residing in Covington, Miami County, was the first settler within the present limits of Wayne Township. He settled in 1815 on land now owned by Lewis Sherry in Section 18. Jacob Carlock, where Webster stands, and Zachariah Hole came a little later in the same year. Aaron Greer, Richard Brandon, and Lewis Baker came to the township about 1817, Henry Swisher in 1818. He was the first Justice of the Peace. Peter Radabaugh, William McGriff, John Wyland, Thomas Bayman, Newberry York and Joseph McDonald were among the earliest settlers. Allan Reed, now a merchant of Versailles, came to the township in 1821. The first white child born in the township was Dr. Stephen A. Greer, now living at or near Woodland, Patterson Township. The first man who died was the father of Silas Atchison, who laid out Jacksonville, or Versailles, as it is now called.
The first schoolhouse was put up in Versailles in 1821 or '22. There are now eleven schoolhouses in the township, besides two at Versailles, one high and one primary. In the township there are 556 schoolchildren—269 males and 287 females. In Versailles there are 183—101 boys and 82 girls; making a total, for both town and township, of 739.
In 1819 or '20 Thomas Childers, a Baptist minister, organized a church. About the same time a Christian church was organized by Samuel Kyle, who lived near Piqua. In 1822 or '23 the Baptists put up a church building on land now owned by John Boyer in Section 25. This church was the second one built in the county. The Christians built a church about 1826, on land now owned by William E. Larimore in Section 24. There are now seven churches in the township, viz., one Methodist, one Christian, one Lutheran north of Webster, and a Catholic in Frenchtown.
Versailles was laid out in 1819, Webster in 1835, and North Jacksonville in 1842.
By the census of 1870 the population was 1983, of whom 247 were foreign born and 22 were colored.
Darke County History 1875 Atlas of Darke County, Ohio transcribed by Tom Midlam December 2000
Return to Townships of Darke County

&copy 1997-2001 Wally Garchow (DarkeMan) | Sacramento, CA | wally@calweb.com