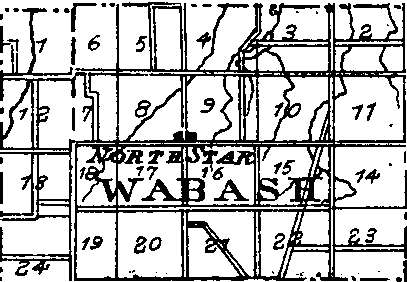 WABASH TOWNSHIP
Was erected in 1841, and contained all that part of townships 14 and 15 North, Range 2 East, and townships 12 and 13 North, Range 3 East that lay in York Township, except two tiers of sections on the south. In 1848, Township 15 North, Range 2 East, and Township 13 North, Range 3 East, were taken into Mercer County, and in June of the same year Sections 2, 11, 14 and 23 of Township 13 North, Range 3 East, were taken from Patterson Township and added to Wabash.
William A. Davison and Nimrod Ross were the first settlers in this township. They were brothers-in-law, and, in the spring of 1838, bought together the west ½ of the southwest ¼ of Section 12, the east ½ of the southeast ¼ of Section 11, the northwest ¼ and west ½ of the northeast ¼ of Section 12, Township 14 North, Range 2 East; and sold the same on the 23rd of October 1838, to Harmonius Shook, for $1800. The land is now owned by various persons, having been divided into smaller farms. The next who came to the township was Isaac Finkbone; then, Elijah Shook; next, Justin Skinner; Samuel Hayes, John M. Houston, and A. D. Birt were also among the earliest settlers.
The first schoolhouse was built in 1840, on land now in the name of E. S. Shook in Section 13. The first teacher was Elijah Raines, from Greene County, Ohio. There are now five schoolhouses and 359 schoolchildren—198 white and 3 colored males, and 158 white females.
The first church was built in 1844, on the site of the present M. E. Church in Section 13. There are now three churches in the township, viz., two Methodist Episcopal and one Christian.
The first Justice of the Peace was Elijah Shook, who held the office for twenty-five consecutive years. The oldest living settler is Thomas Birt, now residing in Section 9. He came to the township in the fall of 1838.
There are now 45 miles of road built in the township, 13 3/8 of which are pike. By the census of 1870 the population was 824, of whom 27 were foreign born and 5 were colored.
Darke County History 1875 Atlas of Darke County, Ohio transcribed by Tom Midlam December 2000
Return to Townships of Darke County

&copy 1997-2001 Wally Garchow (DarkeMan) | Sacramento, CA | wally@calweb.com