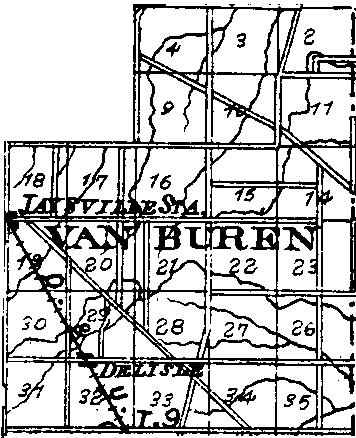 VAN BUREN TOWNSHIP
Was erected in June 1838, and named for the President who was in office at that time. It was taken from the south end of Adams and east end of Neave townships, and contained all of Township 8 North, Range 4 East, that is in the county, and all of Township 9 North, Range 3 East except sections 5, 6, 7 and 8, which are included in Greenville Township. In June 1839, Franklin Township was formed, containing all of Van Buren Township east of a line running north from the southwest corner of Section 36, Township 9 North, Range 3 East.
Christopher Martin, who settled about 1820 on land now owned by David Reck in Section 3, was among the first in the township. The very first, however, was probably James Gregory, who afterwards sold out to Benjamin Roe. It is said he came in 1816. Isaac and David Byers, Richard and James Gowers, and John Markwith were also early settlers. Isaac Byers was the first Justice of the Peace.
The first schoolhouse was built on the land of William Townsend, in Section 20. There are now 8 schoolhouses, and 545 schoolchildrenó282 males and 263 females.
The first church was built by the Christians at Delisle in 1851. There are now 2 United Brethren, and 1 Methodist church in the township.
The township has 55 miles of road, 32 of which are pike. By the census of 1870, the population was 1212, of whom 23 were foreign born and 14 were colored.
Darke County History 1875 Atlas of Darke County, Ohio transcribed by Tom Midlam December 2000
Return to Townships of Darke County

&copy 1997-2001 Wally Garchow (DarkeMan) | Sacramento, CA | wally@calweb.com