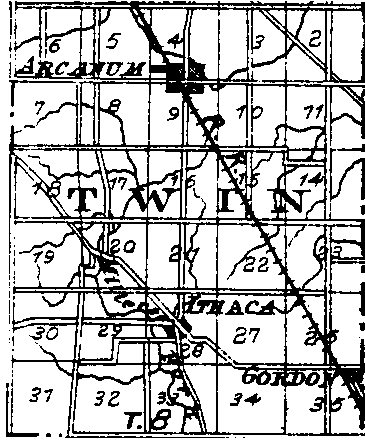 TWIN TOWNSHIP
Was erected in July 1817, and contained all of the county south of a line running due east from the northwest corner of Section31, Township 11 North, Range 1 East. When the townships of German, Neave and Van Buren were laid out, they were made to extend south to the range line, taking a strip a mile in width from the north part of Twin Township. In May 1818, Harrison Township was laid out, containing all of Twin west of a line running due north from the southeast corner of Section 31, Township 10 North, Range 2 East. In September 1820, Harrison Township was reduced to its present size. In June 1836, Monroe Township was taken from the east end of Twin, and contained all of that township east of a line running north from the southwest corner of Section 36, Township 8 North, Range 3 East. Butler Township includes all of Township 10 North, Range 2 East, and was taken from Twin Township, probably in 1821, but the exact date cannot be ascertained.
David Lucas and William Cortner in 1815, Richard Robbins in 1816, Isaac Walker in 1818, and Adam Briney, Frazee Doty, William Lemon (who was the first Justice of the Peace), David Shear, Daniel Bumgardner, Philip Rader, and Frederick Shank were the first settlers in Twin Township. So far as is known, William Cortner and wife and Mrs. Rosa Shank are the only survivors at the present time.
The first schoolhouse was built in 1822 or`23, on land now owned by Thomas McCown in Section 19. There are now nine schoolhouses in the township and one in Arcanum. In the township there are 568 schoolchildren—275 males and 293 females. In Arcanum, 139 males, 118 females—a total of 257; or for the township, including Arcanum, 825.
The first church was built on land now owned by N. H. Tillman in Section 6, by the Christians. There are now seven in the township—1 Methodist and 1 United Brethren in Arcanum, 1 United Brethren, 1 Lutheran, and 1 Methodist in Ithaca, and 1 Baptist and 1 Methodist in Gordon.
There are 68 miles of road in the township, 22 of which are pike.
The town of Ithaca was laid out in 1832; Arcanum and Gordon were laid out in 1849.
Mrs. Catharine Bollinger, living in Twin Township, is the oldest person in the county, being 102 years of age.
The following is the census of the township for 1870:
| | | | | |
| --- | --- | --- | --- | --- |
| | Total | Native | Foreign | White |
| Twin Township | 1998 | 1931 | 67 | 1998 |
| Arcanum | 450 | 443 | 7 | 450 |
| Gordon | 87 | 82 | 5 | 87 |
| Ithaca | 150 | 146 | 4 | 150 |
Darke County History 1875 Atlas of Darke County, Ohio transcribed by Tom Midlam December 2000
Return to Townships of Darke County

&copy 1997-2001 Wally Garchow (DarkeMan) | Sacramento, CA | wally@calweb.com