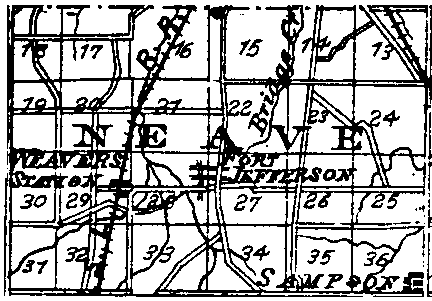 NEAVE TOWNSHIP
Was erected December 5, 1821 and, in addition to its present area, contained eight sections in what is now Van Buren Township, making it eight miles east and west and four miles north and south. In June 1838, all of Neave Township that lay in Range 3 East was taken into a new township called Van Buren, thus reducing it to its present size.
The first settler in the township was Andrew Noftsinger, in 1810. About 1817, he erected a gristmill on Mud Creek below the outlet of the lake, where Dr. Otwell's mill is now. This was the third mill in the county. James Hayes also was a very early settler at Ft. Jefferson. John Ryerson came in 1816, and within that and the two succeeding years came—Moses Arnold, George W. Hight, William Townsend, Hezekiah Vietz, John Puterbaugh, and Christian Schlecte. George Nogel and T. C. Neave (from whom the township gets its name) were among the first settlers; also William and Simeon Chapman and Adam Belles. When the township was formed, H. D. Williams and John Douglass played a game of cards against Eastin Morris and T. C. Neave, to decide who should name it. Williams and Douglass won, and on playing again between themselves, Williams won, but Neave was so anxious to name the township, that he paid Williams $10 for the privilege, and named it after himself. Fort Jefferson, built by St. Clair in 1791, was the first building erected in the county.
There are seven schoolhouses in the township, all of brick, and 374 schoolchildren, 207 boys and 167 girls.
The churches are four in number—a Methodist and a Union church at Fort Jefferson, a United Brethren near Weaver's Station, and another at Sampson.
The town of Fort Jefferson was laid out in 1818, and Sampson in 1846.
There are in the township 46 miles of road, 26 of which are pike. By the census of 1870, there were 1093 inhabitants in the township, 21 of whom were foreign born.
Darke County History 1875 Atlas of Darke County, Ohio transcribed by Tom Midlam December 2000
Return to Townships of Darke County

&copy 1997-2001 Wally Garchow (DarkeMan) | Sacramento, CA | wally@calweb.com