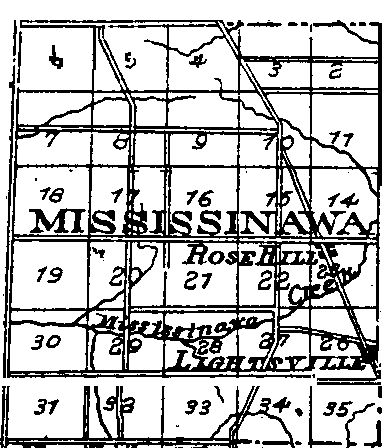 MISSISSINAWA TOWNSHIP
Was erected in March 1839, and was taken from the north end of Jackson Township. It included all of Township 14 North, Range 1 East, except the north tier of sections, which was then included in Gibson Township. April 12, 1848, this tier of sections was taken into the township as Gibson Township was thrown into Mercer County.
The first settler in this township was Philip Replogle, who in 1833 settled on land now owned by Jacob Replogle. Shortly after him came Peter Wertz and John Replogle. In 1835, Joseph and William Wolf settled near Rose Hill. John B. Anderson, Samuel C. Carter, David Brooks, John A McKibben, and William Van Kirk were among the earlier settlers, as was also William B. Light, who laid out the town of Lightsville in 1874. Samuel C. Carter was the first Justice of the Peace.
The first schoolhouse was built on land of Caroline Grissom, but the date of its erection is not ascertained. There are now six schoolhouses in the township and 397 schoolchildren—201 males and 196 females.
The first church was erected in 1851, on land then owned by Samuel C. Carter. There are now four in the township—one Methodist, one Christian, and two United Brethren.
Rose Hill was laid out in 1852. The township now has 44 miles of road, 11 3/10 miles of which are pike.
By the last census there was a population of 798, of whom 41 were foreign born.
Darke County History 1875 Atlas of Darke County, Ohio transcribed by Tom Midlam December 2000
Return to Townships of Darke County

&copy 1997-2001 Wally Garchow (DarkeMan) | Sacramento, CA | wally@calweb.com