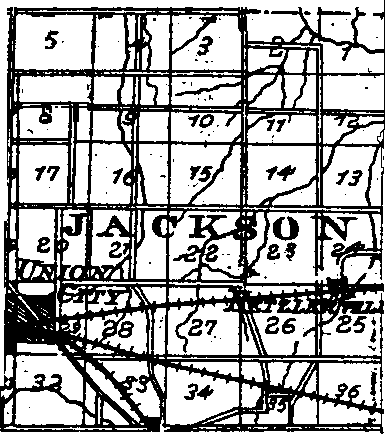 JACKSON TOWNSHIP
Was erected in December 1833 and contained Townships 13, 14 and 15 of Range 1 East, which were then part of Washington Township. In June 1836, Township 15 and the north tier of sections of Township 14 were taken from Jackson and called Gibson Township. In March 1839, the rest of Township 14 North, Range 1 East was formed into Mississinawa Township.
There seems to have been a number of persons who settled in this township at nearly the same time, about 1829 or '30. Jacob and Richard Strait, Gilbert Vail, Tobias Miller, Abraham Miller, John Armstrong, John Wright, William and Samuel Dennison, and John Woods were among the number. William Parent, now living in Union City, came to the township in 1831. Jno. McFarland, Isaac Beal, William Ross, Frederick Roe, William K. Marquis, John Crumrine, Gilbert Hand and Joseph Hay also came to the township at an early date.
John Armstrong was the first Justice of the Peace. The first schoolhouse was built on land now owned by his widow in Section 35. There are now eight schoolhouses in the township, and one in Union City. There are 311 schoolchildren--160 boys and 151 girls. In the remainder of the township there are 250 boys and 209 girls--a total of 459; including Union City there are 770.
The first church was built by the Methodists, adjoining land now owned by Martin M. Barr, and is still standing. The only other church in the township is in Union City, and is owned by the Christians.
Union City was laid out in 1838 and incorporated in 1853.
The census of the township for 1870 was as follows--
| | | | | |
| --- | --- | --- | --- | --- |
| | Total | Native | Foreign | White |
| Jackson Township | 2088 | 1953 | 135 | 2088 |
| Union City | 792 | 686 | 106 | 792 |
There are now 68 miles of road in the township, exclusive of the streets in Union City, 21¾ of which are pike.
Darke County History 1875 Atlas of Darke County, Ohio transcribed by Tom Midlam December 2000
Return to Townships of Darke County

&copy 1997-2001 Wally Garchow (DarkeMan) | Sacramento, CA | wally@calweb.com