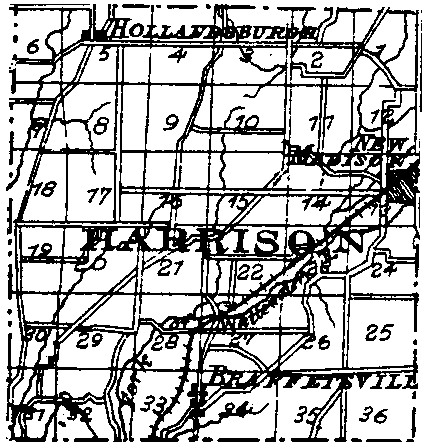 HARRISON TOWNSHIP
Was erected in May 1818, being taken from the west end of Twin Township, and contained all of that township west of a line commencing at the Southeast corner of Section31, Township 10 North, Range 2 East and running thence north to the township line. It was reduced to its present size September 7, 1820.
Harrison is one of the townships that were settled before the War of 1812. About 1810, several families settled here, among whom were John Brawley, the Purviances, and Samuel McClure and his sons. These all went away during the war and returned at its close. It is said that Ishmael Bunch, who was one of the earliest settlers of Wayne County, Indiana, built a cabin and lived for some time in Harrison Township; he was a genuine frontiersman, depending more on the rifle for his sustenance than upon the plough. At the close of the war, settlers began to come in quite rapidly. Among the first of these were William and John Wade, who settled near New Madison in 1816, the Tillsons, Harlans, and James Emerson, in the same year, also John Rush, Joseph Gest, Jacob Miller, and Zadoc Smith, who laid out the town of New Madison in 1817.
In 1819, the first schoolhouse was erected at "Yankeetown," about two miles southwest of New Madison. Moses Woods, still living in Palestine, was the first teacher. There are now eleven schoolhouses in the township and one at New Madison. In the town there are 179 schoolchildren—80 boys and 99 girls. In the rest of the township, there are 299 boys and 99 girls—a total of 557, or, including New Madison, of 736.
The first church was built on land now owned by C. Thurston in Section 21. There are now 7, viz., 1 Presbyterian and 1 Universalist in New Madison, 1 Christian at Hollansburg, and 1 each of Presbyterian, Christian, New Light, and United Brethren elsewhere in the township.
The first Justices of the Peace were Solomon Broderick and James Wooden.
New Madison was laid out in 1817, Hollamansburgh (as it is spelled on the records) in 1838, and Braffettsville in 1833.
There are 74 miles of road in the township, 29 of which are pike.
The census of the township for 1870 is as follows:
| | | | | | |
| --- | --- | --- | --- | --- | --- |
| | Total | Native | Foreign | White | Black |
| Harrison Township | 2007 | 1947 | 60 | 2007 | |
| Hollansburg | 239 | 239 | | 239 | |
| New Madison | 452 | 408 | 44 | 452 | |
Darke County History 1875 Atlas of Darke County, Ohio transcribed by Tom Midlam December 2000
Return to Townships of Darke County

&copy 1997-2001 Wally Garchow (DarkeMan) | Sacramento, CA | wally@calweb.com