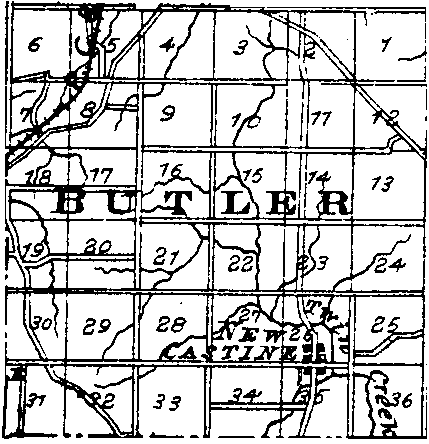 BUTLER TOWNSHIP
The most diligent search fails to reveal anything in the records concerning the formation of this township and, although inquiry was made of a score or more of old settlers, none could give the date at which it was taken from Twin Township, of which it originally formed a part. It was most probably about 1820 or '21.
Job Decamp, in 1814, was the first settler in this township. Francis Harter and his sons, and James Mills in 1817 or '18 Jacob Weingardner 1819, and Abram P. Freeman were among the earlier settlers. Charles Harriman, now residing in Twin Township, came to Butler in 1821, and settled where Castine now stands. Jonathan Pitman, Danner and Ellis also came at an early day.
The first schoolhouse was built about 1824, on Section 35 near the present site of Castine. There are now nine schoolhouses in the township, and 614 schoolchildren--332 males and 282 females. Samuel Satterley was the first schoolteacher.
The first church was built near Castine. There are now a Dunkard and a United Brethren Church in Castine, and two United Brethren and a German Reformed Church elsewhere in the township.
Castine was laid out in 1832.
In 1831 there were 512 inhabitants in the township. In 1870 there were 1524, of whom 1491 were native, and 33 foreign born. In Castine 177--169 native and 8 foreign. There are about 79 miles of road in the township, 45 of which are pike.
Darke County History 1875 Atlas of Darke County, Ohio transcribed by Tom Midlam December 2000
Return to Townships of Darke County

&copy 1997-2001 Wally Garchow (DarkeMan) | Sacramento, CA | wally@calweb.com