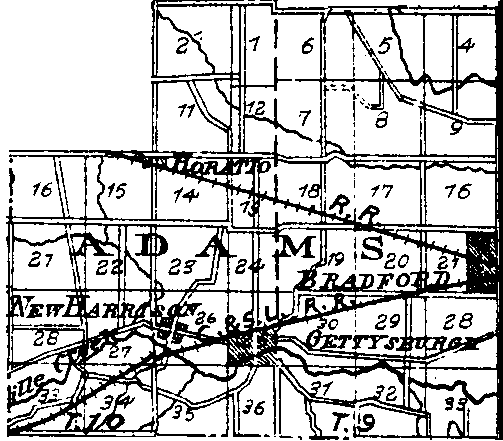 ADAMS TOWNSHIP
Was erected in March 1819 and contained all the land east of a line running south from the northwest corner of Section 4, Township 10 North, Range 3 East, to the southwest corner of Section 28, Township 9 of Range 3. It was taken from the east end of Greenville Township and south end of Wayne. In 1820, sections 3, 4, 9 and 10 of Township 10, Range 3 were taken into Richland Township. In June 1838, all of Township 8 Range 4 and Township 9, Range 3 that were in Adams, was taken into a new township called Van Buren.
This township was the second one settled in the county. In 1808, Abraham Studabaker, with his family, settled on the banks of Greenville Creek, opposite the site of Gettysburg. There were no other settlers till after the Indian War of 1812. Very soon after this was closed, Major George Adams, who had been in the armies of Harmar and Wayne, came to the township and built a mill where Stoltz & Koppess' mill now is. This was the first mill in the county. About the same time came Armstrong Campbell, who settled where Abraham Stoltz lives, in Section 30 and William Steward (Stewart) where Washington Cromer lives in Section 36. William Cunningham, Samuel Robinson, Barton Fairchild, Thomas McCune, Josiah Carr, John Myers, Zadoc Ragan, Zachariah March, Ebenezer Byrom, at New Harrison; Isaac Hollingsworth and Thomas Warren were also early settlers. John Reck, now living in Gettysburg, settled about a half mile above the town in 1827.
He and his brother William Reck, Henry Weaver and Armstrong Campbell built the first schoolhouse in the township. This was erected in 1830 where the cemetery now is, near Gettysburg. Samuel Horner was the first teacher. There are now 12 schoolhouses in the township, 2 in Gettysburg, and 1 in Bradford. There are 702 school children in the township—360 males and 342 females. In Gettysburg there are 50 males (one colored) and 45 females—total 146: making for the township and two towns a total of 943.
The first church was erected by the Lutherans, on land now owned by Francis Keefauver, about 1834. It is still standing. Besides this there are four churches—a Catholic at Bradford, a Presbyterian in Gettysburg, and a Methodist and a Dunkard elsewhere in the township.
New Harrison was laid out in 1837 by Samuel Robinson, who was the first Justice in the township. Gettysburg was laid out by John Hurshey in 1842, and was incorporated in 1871.
In 1830, Adams Township contained 529 inhabitants. The census of 1870 is as follows:
| | | | | | |
| --- | --- | --- | --- | --- | --- |
| | Total | Native | Foreign | White | Black |
| Adams Township | 2291 | 2196 | 95 | 2289 | 2 |
| Bradford | 243 | 220 | 23 | 243 | |
| Gettysburg | 228 | 211 | 17 | 226 | 2 |
Darke County History 1875 Atlas of Darke County, Ohio transcribed by Tom Midlam December 2000
Return to Townships of Darke County

&copy 1997-2001 Wally Garchow (DarkeMan) | Sacramento, CA | wally@calweb.com